If you're looking for a YouTube keyword tool, there are quite a few options available to you. In this post, we'll look at some of the best ones available in 2020, and how to tell which one is right for you.
YouTube is the second largest search engine in the world after Google itself. It processes more than 3 billion search queries every month.
"It's bigger than Bing, Yahoo!, Ask and AOL combined", according to Mushroom Networks.
And while determining whether you should focus your efforts on ranking in Google or ranking in YouTube depends on a lot of things—and it's by no means an either or, both go hand-in-hand—it's definitely a platform worth mastering.
One of the pioneering YouTube keyword tools that's been around for years and continues to serve a loyal customer base.
One of the nice things about TubeBuddy is that it's a freemium Chrome extension. So you can start playing around with it without having to pay.
One of the downsides of TubeBuddy is that their "Searches per month" estimates are typically very inflated.
Their pricing is pretty affordable, and if you have a YouTube channel with less than 1,000 subscribers you can even get a 50% discount on the Pro plan, which works out to $4.50 per month. If you pay annually, it gets even cheaper!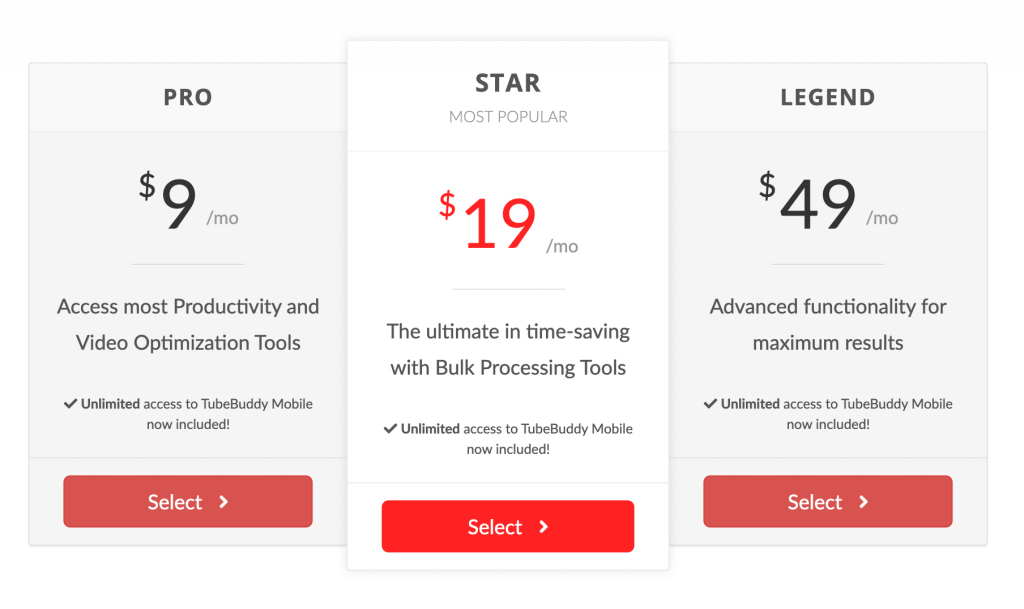 VidIQ is the other established tool for people that want to grow their YouTube audience.
You can start using VidIQ for free too, and pick higher-priced plans that better match your needs.
If you're unsure about choosing between TubeBuddy and VidIQ, Corey Potter recently wrote up a great comparison of both tools.

Tubics' pricing offers an introductory pricing of $7.90 per month for creators with limited functionality. The full-featured versions are aimed at companies with bigger budgets (starting at $190 per month).
SocialBook is a tool that can best be described as: it has potential if they keep improving the product. But as of right now, I found it to be pretty unreliable. Not all features work as advertised, and the support experience I had with them (in June 2020) was abysmal.
SocialBook Builder is a Chrome extension too.
One neat feature is the thumbnail maker—it's pretty easy to quickly generate decent thumbnails for your YouTube videos. Kinda like ThumbnailBlaster, but baked into the product already.
E.g. showing the stats of other YouTube channels weren't loading for me.
The numbers I got with SocialBook Builder were very off.
You can use the SocialBook Builder Chrome extension for free and then sign up for a paid plan, for either $20 per month, or $50 per month. (And like with many of the other tools, you get a discount if you pay annually.)