Sometimes you want to know the word count for pages ranking for a given keyword. Obviously you can manually go through each and copy+paste the text, but you got better things to do with your time.
This is my favorite free way of getting word counts, and a lot of other interesting data from the SERPs. You put in your search phrase, and it'll generate a report. This is the overview:
But once you scroll down you get more in-depth insights and tools. I won't go into all of these here since this posts is focused on getting word counts of pages ranking for a given keyword phrase quickly, but one feature of thruuu that I thought was very cool is the H2 tool (which is great for creating outlines):
As you see, it scrapes all the H2s of all the top 10 posts, and then analyzes, orders, and groups them, and even auto-creates a suggested outline that you can copy.
I'd definitely encourage you to sign up for thruu—you get 10 free monthly credits, and the pricing for more credits is very reasonable and well worth the money.
SerpWorx is the most convenient way I know to get a word count overview of the SERPs. However, except for their free 5-day trial (just email + password required, no credit card), you at least can test the tool before you buy it.
It shows you the Word Count for any given page, and the average word count for this given SERP—which is great. Lots of other useful metrics as well (plus it plays well with Ahrefs).
A monthly subscription for SerpWorx costs $30.
You can copy+paste the URLs of top 10 ranking pages for a given keyword phrase and paste it into this Bulk Web page Word Count checker. In this case I typed in art supplies.
Now this will require you to enter a list of the URLs for which you want to know the word count. If you've got an Ahrefs account, you can simply do a quick keyword search and then there's a section where the top 10 ranking URLs are just listed, so you can select & copy them all at once. Here's the list I got when searching for art supplies:
I then copied these URLs into the bulk word count checker: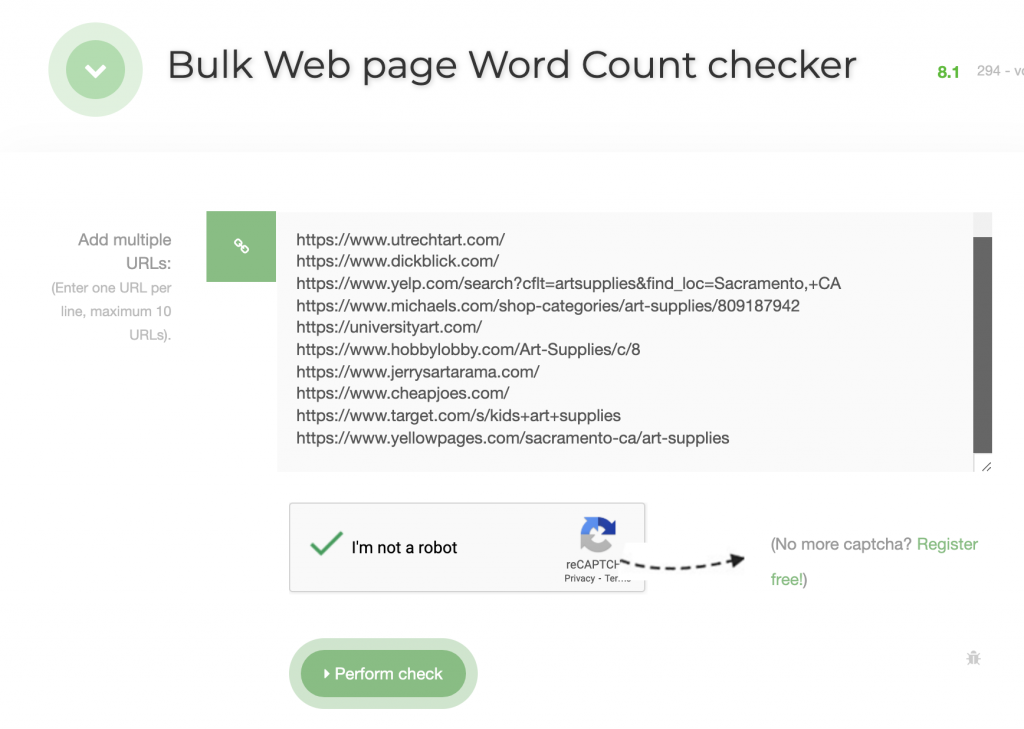 Then it'll get to work and a few moments later give you a table with the following results:
Finally, there are tools like Surfer SEO or Clearscope which do provide word counts for any reports you generate, but obviously these are a bit pricier.