I always find it interesting to check on sites in different industries that do SEO really well. There's a lot to be learned venturing out of the bubble you're in as a marketer, and I'm very much in the B2B bubble.
So here's some consumer sites that stood out for me in terms of their SEO game:
Gainful
Gainful is selling protein powder and other supplements. They're standing out in the market by being "tasteful" in their design and language, coming across a bit more sophisticated than your typical BULK UP YOUR MUSCLES BIGGER LARGER HARDER FASTER kinda protein.
Here some of their top-performing keywords: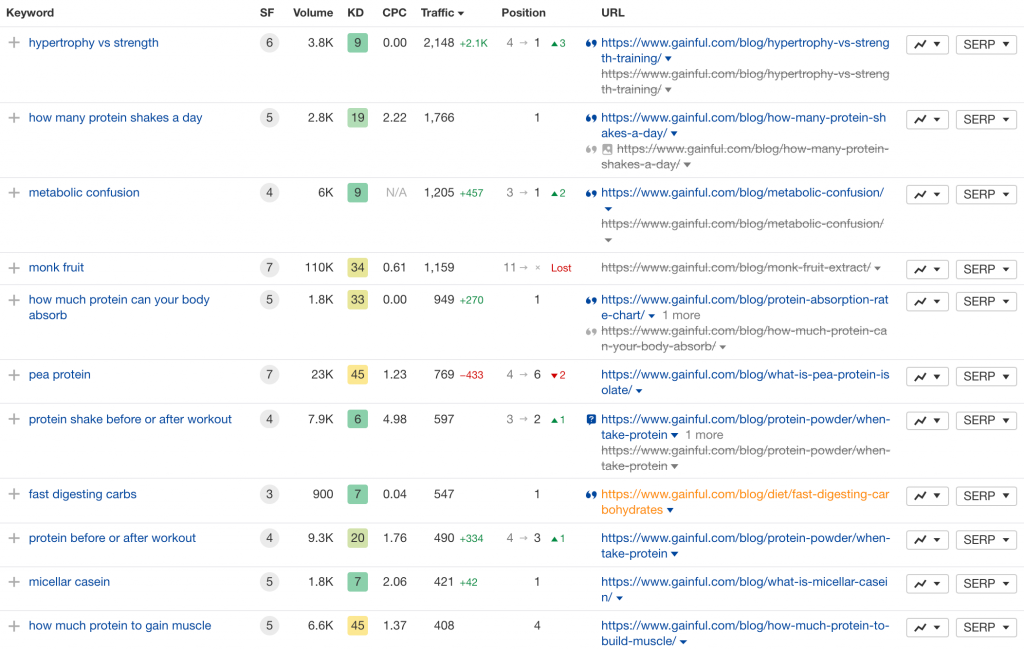 (Btw when you look at the monthly search volume and keyword difficulty ratios, as someone in B2B, it makes me drool.)
On their homepage, the main CTA is to take their quiz, which is a really well-designed 5 minute quiz that asks some interesting question about your current state, goals, challenges and preferences to find out what products are best suited for you.
Headspace
I totally underestimated this thing. A meditation app, I thought. Well, turns out they're completely and utterly dominating SEO for a TON of very competitive, high-volume + high-difficulty keyword phrases:
If their SEO team is all hooked up to the Headspace app, that might be the most compelling argument for me to start using it too.
WealthSimple
In personal finance, WealthSimple is BIG. When you visit their website, you get the "uhhh wow" effect. Beautifully clear design that feels honest.
You can also immediately see that they're playing a big game: top organic keywords with some pretty tough keyword difficulty scores.
Let's look at another site in the finance space…
Nerdwallet
Nerdwallet has been playing a big game in SEO for a long time.
Alright. This is like stepping into the ring with Mike Tyson when he was 25. Holy fuckeroli.
Bankrate
Another big brand in the personal finance space. They're killing it with different kinds of interactive calculators.
Another one where I look at the keyword data and go: Ok, nope. I'm out.
Ikea
Obviously a company that's selling merchandise worth tens of billions of dollars every year is can afford to build a massive web presence, but there's plenty of retailers that haven't succeeded at this. If you look at Ikea's rankings though, it's massively impressive:
Ranking in the top 3 for "desk", "chair", "sofa", "sofa bed", "dresser", "bed frame" just to pick a few here.
Untappd
Basically a social network for beer lovers. They're swooping up lots of high-volume, low competition keywords, massively tapping into UGC with reviews of different drinks.
Keywords with a volume of 26k and a keyword difficulty of zero. It almost makes me want to set up a beer site.
Walk Score
Another interesting site. They want to promote walkable neighbourhoods. If you want to live in a place where you can live your life without needing a car is great, then Walk Score helps you do that, as well as find apartments in that area.
As you can see, they're swooping up lots of low competition keywords.
Active.com
If you're looking for local events and activities, active can help you find those. Here's another site that's just crushing it with interactive calculators. I can't say I'm particularly impressed with their website—it's not a beautiful UI and overall the experience isn't great. They also have an app, so I wonder how much that plays into their success.
High-volume, high keyword difficulty.
Zomato
Looking for a great place to grab food nearby? Zomato helps you find them.
Low difficulty, high-volume, but they're also competing against Google Maps, which is a tough and risky game to play. Wonder what the average CTR for many of their terms is.