Sendbloom is a prospecting automation platform that helps you build your sales pipeline.
If you're using the cold calling 2.0 model popularized by Aaron Ross in his groundbreaking book Predictable Revenue, then you're sending cold emails to get people to take the next step in the sales funnel – whether that's responding to your email, getting on a call, requesting a demo or actually making a purchase.
Manually sending cold emails is a tedious and overly repetitive task. And while it allows you to really laser-target your prospects and reach out to them with more relevant messaging… it's hard to scale and not a practical approach for most sales organizations.
But automating email follow ups often aren't as effective. They're easy to set up and run, but generally less effective, because most prospects can immediately see that this is an automated email and will either ignore your sales emails… or hit the spam button.
Sendbloom tries to solve this problem by allowing you to create personalized, automated email cadences.
Stop wasting time to manually research prospects
Sendbloom automates the prospect research part. Their software will crawl the web, third-party and their own company databases to get more context around each lead.
Information like company size, founding dates, what kind of software applications they use, which industry they're in, where they're located, their funding history, job titles, and a lot more.
All this data will be available to you and allow you to set up and automated email campaigns at scale.
Prospect list segmentation
Sendbloom also helps you to easily segment your lists based on any combination of attributes you'd see fit.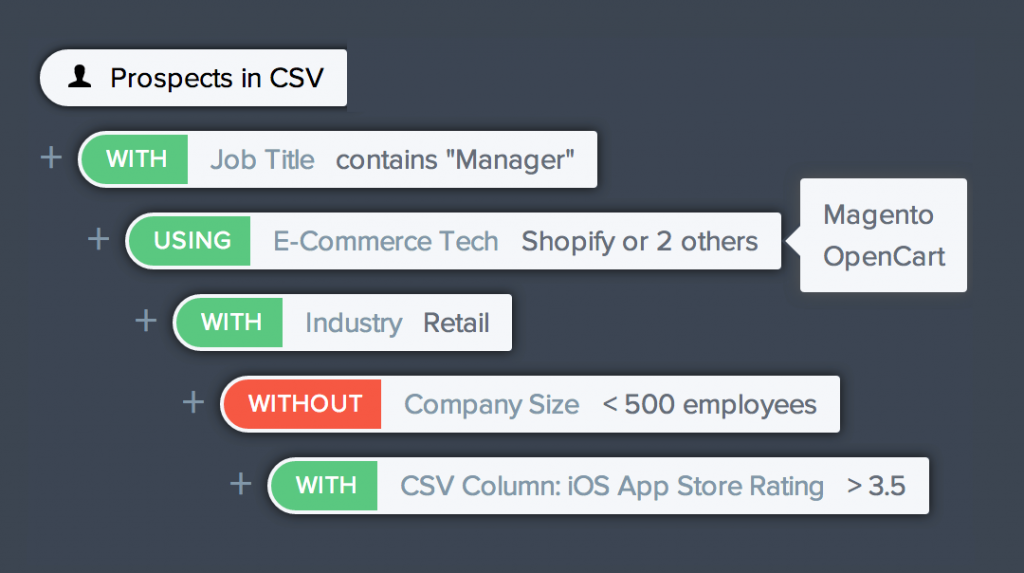 Let's say you're selling CRM solution to ecommerce sites that also have an iOS app.
You could for example upload a list of contacts that are working at companies that have iOS apps into Sendbloom, and then filter out all those contacts who's job title contains the word "Manager".
Then you could filter out all the contacts whose company is using E-commerce solutions like Shopify, Magento & OpenCart.
Then you could further filter out all contacts who are in Retail, and exclude all companies that have more than 500 employees.
And then you could filter out all those where the average iOS app rating is better than 3.5.
Even if you do not need this level of granularity – it gives you a good idea of what's possible in terms of targeted email campaign outreach. Segmenting your prospect lists and criteria that you can define on the fly is very easy.
This will allow you to operate agile and constantly test and iterate with your sales approach.
Personalized emails at scale with merge tags
All the attributes associated with a contact can then be inserted into the email templates you set up for your sales email campaigns.
Combined with Sendbloom's Segmentation Designer, this is a very powerful feature for highly-targeted outreach that can improve your email response rates significantly.
Eric Siu from Growth Everywhere wrote about this the benefits of Sendbloom in a blog post:
The main differentiator that I saw was that Sendbloom can actually automatically put your prospects into different segments and hit them with different e-mails. It'll scan your prospects and see what type of software they're all running on their websites and if they see something that you have specified, they'll place them into a different segment.

For example, let's say you started a Analytics company and want to see which companies run MixPanel or KISSmetrics. You could have a brief e-mail go out to these prospects indicating that you have a better solution to solving their analytics issues. The rest of the people that don't have MixPanel or KISSmetrics can receive a generic e-mails.
Built-in reporting
Sendbloom shows you which prospects open or responded to your emails, which emails bounced and who clicked on a link in your emails.
In addition to that, you also get high-level campaign metrics.
Overall, their reporting isn't as powerful as of many other sales email automation tools.
CRM integrations
Sendbloom can be integrated with Salesforce to log all correspondence data in your CRM. I'm not sure how much of the data will be in Salesforce, and how the data exchange between Sendbloom and Salesforce exactly works, so this is probably an area that you should look into yourself if this is something that's important to you.
Conclusion
If setting up highly-targeted cold email campaigns is a regular part of your sales process, then it's definitely check out Sendbloom.
The ease of use with which you can set up highly-targeted sales email campaigns is really where Sendbloom shines.
Competing vendors for Sendbloom are PersistIQ, SalesLoft & Outreach.
Check out their website for more: https://www.sendbloom.com